Type KPX Mechanical Seal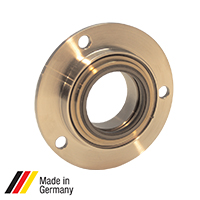 Gearbox Compact Seal
Multi-Springs
Bi- directional
Reverse pressure capable
Description
Characteristics
Materials of Construction
Downloads
The medium lubricated gearbox mechanical seal type KPX is specially designed for the application in Sundyne high speed centrifugal pumps.
Identical dimensions with the original seals allow easy installation and interchangeability*.
Due to special design features the KPX seal can operate under reverse pressure thus providing maximum operating safety. Contamination and subsequent gearbox failure following a product entry due to a pump side mechanical seal collaps is excluded.
Operation limits
Temperature
-50°C to + 180°
Pressure
Max. 45 barg
Speed
Max. 22.000 rpm
Standard materials of construction
Seal face
Carbon antimony impr in stainless steel body
Secondary seal
Viton
Springs
Stainless Steel
Seal retainer
Stainless steel