Type LMV-311 Gearbox Kits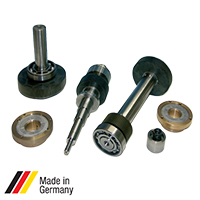 For Sundyne Pumps
Suitable for Sundyne Pump
All single components produced by Sammler CS
Speed ranges from 6.859 rpm to 17.178 rpm*
Description
Spare Parts
Downloads
Complete gearbox kits from sammler cs suitable for Sundyne pump type LMV-311 allow a quick and easy overhaul of failed gearboxes.
All single components produced by sammler cs meet the highest material and quality standards and are fully compatible with the original pump parts.
Gears are hardened and precision ground and meet the requirements of AGMA (American Gear Manufacturer) qualility class 11.
Gearbox kits are available for pump speeds ranging from 6.859 rpm to 17.178 rpm*.
The following components which also can be ordered separately are included in the gearbox kit:
Low speed shaft assembly (A120)
Idler shaft assembly (A140)
High speed shaft assembly (A130)
Lube oil pump and spring (160 / 23A)
Upper and lower journal bearing (151A/151B)
Upper and lower axial thrust washer (155A/155B)
Housing gasket (105)
O-Ring (936T)
Gearbox shaft seal (115)