Indeng Monofl - VRC Centrifugal Pumps
The Indeng Monoflo is a reliable and efficient single-stage end suction centrifugal pump. Its simple construction ensures ease of installation and maintenance with all parts manufactured to close tolerance to give interchangeability.
The VRC Series is suitable for application such as product transfer, fire protection to water supply or spray irrigation.
The pumps can be provided as bare shaft units for incorporation into existing plants, or complete on baseplates with suitable motors ready to run.
To enquire about the VRC Series, call the team at MTP on 1800 439 607.
Features
Applications
Curves
Tech Specs
Casing: Volute type of robust construction to give high efficiency. A deep stuffing box is incorporated and internally sealed to prevent the ingress of air using gland packing as standard. The option of different types of hard faced mechanical seals may be fitted. The delivery branch can be rotated to give any one of eight different positions to enable the most suitable pipework layout to be used.
Impeller: Double shrouded and secured to the shaft by locknut and key. On the large pump sizes, balancing holes are utilized to minimise hydraulic thrust.
Shaft: Accurately machined from high quality stainless steel and designed to withstand the most severe duties without vibration. A renewable shaft sleeve is provided as standard on all larger pumps.
NOTE: Product information should be used as a guide only and should not be used for pump selection. For further information, please contact Malcolm Thompson Pumps on 1800 439 607.
Industrial
• Product transfer
• Chemical process
• Food processing
• Breweries and distillers
• Wineries
• Fire protection
Municipal
• Water supply
• Swimming pools
• Effluent treatment
• Building water services
Agricultural
• Water supply
• Spray irrigation
NOTE: These curves are a guide only and should not be used for pump selection. For a detailed pump curve, please contact Malcolm THompson Pumps on 1800 733 687.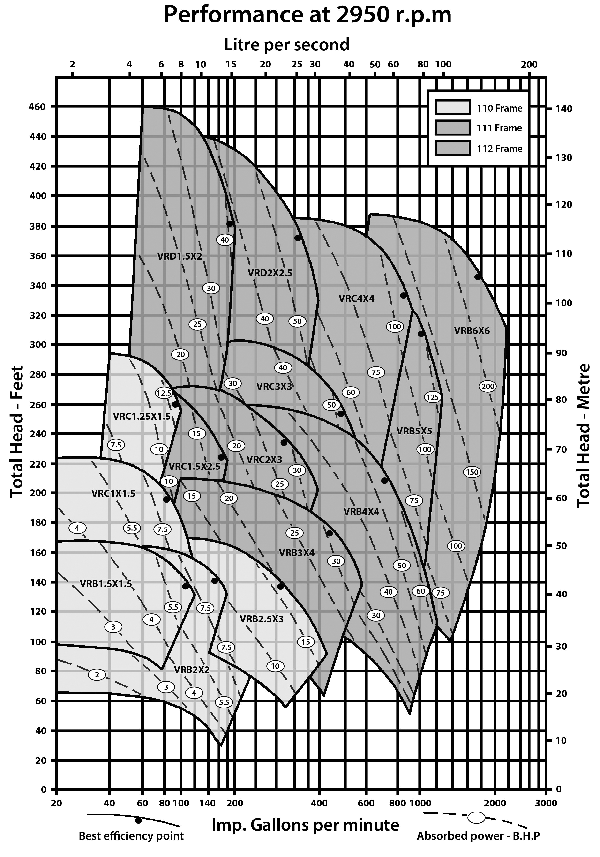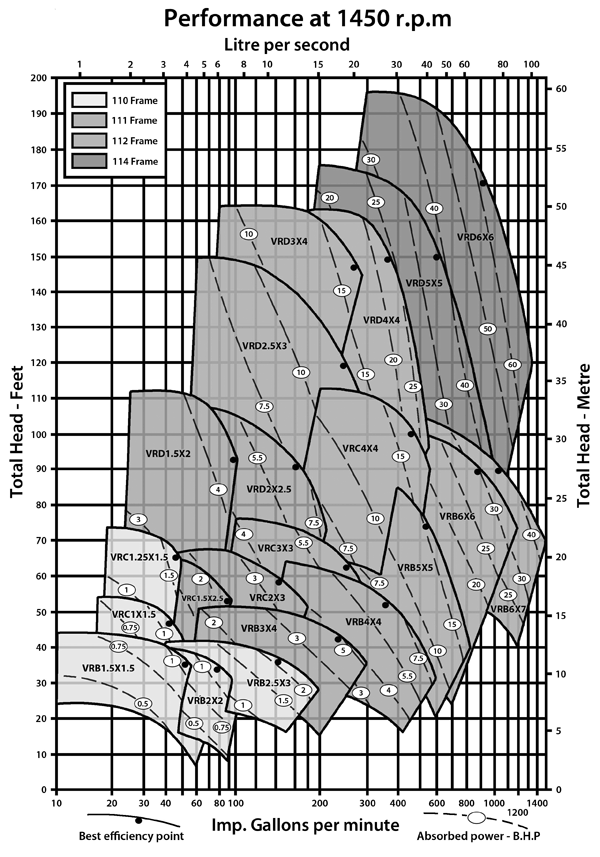 | | | | |
| --- | --- | --- | --- |
| Part number  | Casing/Impeller Material | Seal Type | Frame |
| VRC1.25X1.5A43GP | Cast iron | Gland packed | 110 |
| VRC1.25X1.5A43MS | Cast iron | Mechanical seal | 110 |
| VRC1X1.5A43GP | Cast iron | Gland packed | 110 |
| VRC1X1.5A43MS | Cast iron | Mechanical seal | 110 |
| VRC1.5X2.5A43GP | Cast iron | Gland packed | 111 |
| VRC1.5X2.5A43MS | Cast iron | Mechanical seal | 111 |
| VRC2X3A43GP | Cast iron | Gland packed | 111 |
| VRC2X3A43MS | Cast iron | Mechanical seal | 111 |
| VRC3X3A43GP | Cast iron | Gland packed | 112 |
| VRC3X3A43MS | Cast iron | Mechanical seal | 112 |
| VRC4X4A43GP | Cast iron | Gland packed | 112 |
| VRC4X4A43MS | Cast iron | Mechanical seal | 112 |
* Bronze materials for body and impeller available on request