It's a productivity game changer – Impressive new water cart pump hits the market
The team at Malcolm Thompson Pumps has been servicing the mining industry for many years, with a solid history of supplying centrifugal end suction pumps and pumping systems.
Malcolm Thompson Pumps has now entered the water cart truck market with a bang, releasing the Stalker ISO Hydraulic Driven Series.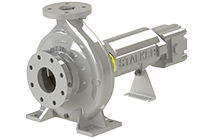 The ISO Hydraulic Driven Series of pumps are manufactured in Perth by Stalker Pumps, a division of Malcolm Thompson Pumps, with an onsite foundry and manufacturing facility. The Stalker Pumps brand has been in operation since 1923 and has long been recognised for performance, reliability and durability and the ISO Hydraulic Driven Series is no exception.
The pump itself is an ISO standard pump, modified for a splined shaft and is close coupled by way of a two bold SAE mounting to a matched hydraulic motor. While the unit provides a reduced footprint compared to a long coupled pump set, some 200mm smaller in length, it can be fitted directly onto a new system or retro-fitted to an existing mobile spray system without any modifications being required.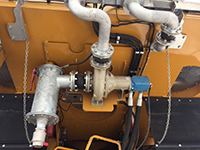 The major benefit of this pump system over its current competition is the time saving in both the servicing and repair of the pump and motor.
The easy on/off hydraulic motor facilitates fast and simple motor mounting and replacement, allowing a worn motor to be removed and replaced on site rather than having to take the water truck into a workshop environment.
The system's closed couple design offers two further benefits. It eliminates the time and labour involved for a specialist to align the couplings to reconnect the pump to the motor after a service or repair job. It also extends the normal service inspection intervals for the coupling drive.
While anecdotal stories are common place when it comes to efficiency gains, Malcolm Thompson Pumps has the benefit of the evidence gained from a pilot program where the pump systems were used for mobile dust suppression on operational mine sites.
In preparation for product launch, Malcolm Thompson Pumps worked exclusively with a prominent QLD mobile spray system supplier to rigorously test their new pumps in-situ. The feedback received indicates that for a fully resourced mine site, pump servicing times decreased by almost 30%, due to the speed in dismounting and remounting the product, and the removal of coupling alignment issues. The supplier also reported that repair times reduced by almost 50%, with the serviceman able to quickly swap out parts on site, even the entire motor.
Overall, it was reported that mine sites benefited from both the reduction in service times and costs, and from the greater time each water cart could spend being operationally efficient.
The Stalker ISO Hydraulic Driven Series is available now and can be ordered directly from Malcolm Thompson Pumps.