Minus the water on your mine site
Mining projects require careful and strategic planning, but at times it can be hard to predict issues that may arise. Unpredictable weather conditions or the specific layout of a site can cause issues such as excess water to appear. This impacts greatly on a mine sites operations and becomes a major safety hazard. In cases like this, dewatering is required to fix the problem.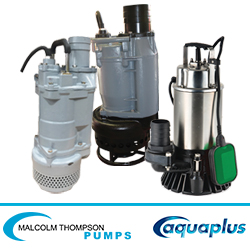 Dewatering is common practice in most mining projects and involves the pumping out of excess ground water or surface water for the purpose of having better conditions on the site. In most cases, it is usually carried out prior to excavation or to lower the water table.
Malcolm Thompson Pumps (MTP) recognises the importance of dewatering and are proud to exclusively offer the Aquaplus SD, SDL and SDA Series pump range. This series of Aquaplus pumps have been specifically designed for mine site dewatering and sump drainage.
Benefits of the Aquaplus Heavy Duty Submersible Dewatering and Drainage Pumps range include:
1. Aquaplus Pump Packages
MTP are specialists in designing pump systems for removing ground and surface water in mine sites. They are able to conduct an analysis of your mine site and work out a solution built to your specifications.
2. Snore Mode
These pumps are able to operate autonomously, meaning employees spend less time monitoring the pump.
3. The Powerful SDA Series
The Aquaplus SDA Series pumps have the capacity to pump bentonite, meaning it is able to pump nearly any debris that may be in the water. This is because the SDA Series features an agitator which is beneficial for light slurry applications.
The Aquaplus SD, SDL and SDA Series pumps are available now through Malcolm Thompson Pumps.