How MTP achieve self priming pump solutions
At MTP, we partner with many major councils around Australia to provide customised self priming pump solutions across different sites including waste water treatment plants, local and national parks as well as government or council buildings.
On this occasion, a local Perth council approached MTP requesting a new skid mounted self priming pump to be used for a landfill environment. The challenge for MTP was to present a solution that matched our client's detailed specifications, as well as provide an appropriate quote that our client was satisfied with.
Self Priming Pump Requirements
Due to the operations of a landfill environment, the new skid mounted self priming pump needed to have strict requirements in regards to its operation, the pump model, its operating noise and its material of construction.
Our clients request included having a 3 cylinder engine, inbuilt fuel tank and lifting frame, a cast iron pump with mechanical seal and a minimum pump flow rate of 25 litres per second @ 25 metres total head.
The Stalker Pumps APR model was selected as the pump of choice. Due to Stalker Pumps being an Australian owned business with a foundry and manufacturing facility onsite, requesting a Stalker Pump means quick lead times with quality materials. The main challenge for our workshop team was adapting the Stalker self priming pump to a close coupled arrangement that would be suitable for the pump set being designed.

Stalker Pumps Solution 
The MTP workshop team have become accustomed to these types of pump system requests. With a busy start to the New Year, our Engineering and Design team met to discuss the requirements and time frame of when this unit was required.
The manufacturing of the Stalker 100APR from our Self Priming APR range took place at our Perth foundry and machine workshop. The design of the pump unit was completed using the latest AutoCAD software, where a CAD 3D model was done and presented to our client.
The pump was manufactured with cast-iron casing with a 316 SS impeller, tungsten carbide mechanical seal and grease lubricated bearing housing. It was then coupled to a Deutz F4L2011 diesel engine with 45.4kW continuous speed at 2800 RPM and a duty operating speed of 2400 RPM.
Read another customised self priming pump case study here.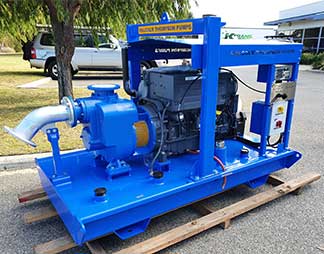 Final Results
Our team manufactured a high quality diesel self priming package that met all the specifications outlined by our client. They were very impressed and appreciative to the MTP team for delivering this pump system within the specified timeframe, with the pump unit thriving within the landfill environment.
Learn more about our self priming pump range here.