Providing Unique Solutions for Unique Challenges
Malcolm Thompson Pumps recently designed, manufactured and supplied a self-priming, diesel-powered pump package to a client involved in the Mackay Sulphate of Potash Project located in Western Australia.
The Mackay Sulphate of Potash Project comprises of seven tenements covering a total area of 2,560 square kilometres. The Project covers the majority of Lake Mackay, which is a Western Australian salt lake, and contains the world's largest known Mineral Resources of brine-hosted Sulphate of Potash.
The Problem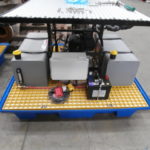 As part of the Feasibility Study being conducted on site, our customer required a transfer pump package to assist in the removal of water from trenches that have been dug.
The unique challenges presented by this project included:
• The fluid being pumped was highly saline water, meaning the pump unit had to be corrosion resistant.
• The pump unit would be located in a remote area of the site, meaning there was no electricity available to power the pump.
• The pump unit needed to be self-priming.
• Also due to the remoteness of the site, the pump could only be delivered to site via a sling attached to a helicopter.
The Solution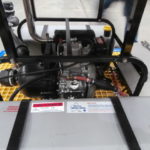 In close consultation with the client, MTP's dedicated engineering and design team custom designed and built a self-priming, diesel driven pump unit that addressed the challenges presented by the location of the site.
Key components of the pump package included:
• A lightweight, back-glass reinforced 50mm polyester, self-priming T Series Pacer Pump. The pump's optimum design duty is 5 L/s @ 18m TDH.
• A 4.8hp electric start, high speed diesel engine.
• The pump package was controlled with an automatic stop/start by way of a specialised control panel and float switch.
• A plastic bonded base was designed and fitted with plastic fuel tanks.
• A protective roof with hoist points suitable for air transport via a helicopter to sling the unit into place.
The Results
MTP successfully designed and built the pump unit to the customer's specifications, within budget and on time. The design features MTP added to the unit also assisted our customer with the safe delivery of the pump package to site. The customer was very happy with the pump units and subsequently ordered five more.
Contact MTP Today
At Malcolm Thompson Pumps we specialise in the provision of complete pump system solutions built to customer specifications. Working with both consultants and end users, our water management pump systems include:
• Process and Transfer Pump Systems
• Dewatering Pump Systems
• Borehole Pump Systems

Contact us today on 1800 439 607 to discuss your pump package requirements