Installing Bore Pumps across Aus Mine Sites
At Malcolm Thompson Pumps, our service teams specialise in the supply, installation, service and maintenance of bore pumps.
We are highly accustomed to providing bore hole pump packages to a range of industries across Australia, in particular, mining and agriculture.
We also work with well-known pump brands including Grundfos and Aquaplus to deliver high quality and reliable results.
An off-centre bore pump
Our Kalgoorlie branch were approached by a major mining client who were looking for a bore hole pump solution at one of their open pit and underground mine sites.
They were seeking a new bore pump that would be able to adapt to the unique challenges faced on the mine site. In particular, the bore being positioned at a 15 degree angle off-centre.
Our clients were relying on MTP to provide a bore pump and piping solution that would accommodate the challenges at their mine sites.
In addition, MTP's Service team were needed onsite to install the bore as well as provide all headworks and general pumping equipment.
Grundfos Submersible Pump Installation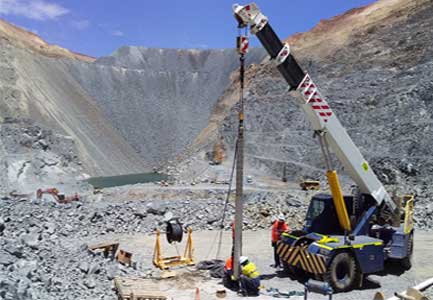 We supplied the Grundfos SP125-5 Submersible Groundwater Bore Pump. Suitable for groundwater intake and mine site dewatering, this pump is made from 100% corrosion-resistant stainless steel, providing high durability and efficiency.
As the bore was not 100% straight, MTP supplied and installed the Aquaplus Flexible Rising Main (FRM). This bore pump accessory is very adaptable and can be installed in narrow and irregular bores due to the flexible tubing. This allows for a major reduction in time and costs involved when installing the submersible bore pump.
In addition, our team upgraded the existing head works as well as commissioned the pump sets, generators and entire system.
Providing a complete bore pumps service offering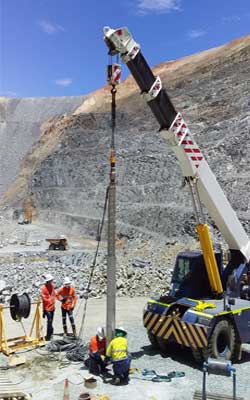 On the day of install our Service team worked with the mine site crew inside the open pit mine.
We ensured all safety measures were undertaken to install the bore pump, as well as accommodated to the different circumstances the mine site was experiencing that day.
Once the bore pump was installed, our team also conducted performance testing. Performance testing is an important component of our service project offering as it demonstrates to our client that the pump has met the required specifications.
The Grundfos SP Submersible Bore Pump, with the assistance of the Aquaplus FRM, has proven to be a highly effective solution to our client's bore pump problem.
If you are interested in learning more about MTP's bore pump capabilities, get in touch with our team today.