Beta
ProMinent's Beta range is a new generation of microprocessor controlled, solenoid dosing pumps. Safe operating, simple operation and function monitoring make this pump suitable for a huge range of applications.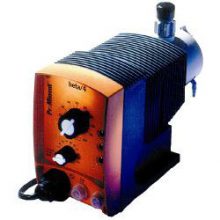 Features
Applications
Tech Specs
Capacity range 0.74 – 32 litres/hour,16 – 2 bar
Continuous stroke length adjustment from 0 – 100% (recommended 30 –100%)
Material options PP, PVC, acrylic/PVC, PVDF, PTFE and stainless steel
10-setting stroke frequency adjustment from 10 – 100%
External control via volt-free contacts
Connector for dual-setting level switch
3 LED display for operation, warning and fault indication
Low voltage 12-24 DC, 24 V AC/DC option
NOTE: Product information should be used as a guide only and should not be used for pump selection. For further information, please contact Malcolm Thompson Pumps on 1800 355 606.
Chlorine dosing in commercial swimming pools
Drinking water disinfection and conditioning
Waste water pH rectification
Part number
Max pump capacity at max back pressure
Max pump capacity at medium back pressure
Stroke frequency (strokes/ min)
Connector sizes outer Ø x inner Ø (mm)
Suction lift* (mWC)
Power supply
Delivery weight (kg)
(bar)
(L/hr)
(mL/ stroke)
(bar)
(L/hr)
(mL/ stroke)
BT4a1000PPE000AC01000
10
0.74
0.07
5
0.82
0.08
180
6 x 4
6.0**
200 – 230 Volt, 50/60Hz
2.9
BT4a1601PPE000AC01000
16
1.1
0.1
8
1.4
0.13
180
6 x 4
6.0**
200 – 230 Volt, 50/60Hz
2.9
BT4a1602PPE000AC01000
16
2.1
0.19
8
2.5
0.24
180
6 x 4
6.0**
200 – 230 Volt, 50/60Hz
2.9
BT4a1005PPE000AC01000
10
4.4
0.41
5
5
0.46
180
8 x 5
6.0**
200 – 230 Volt, 50/60Hz
3.1
BT4a0708PPE000AC01000
7
7.1
0.66
3.5
8.4
0.78
180
8 x 5
6.0**
200 – 230 Volt, 50/60Hz
3.1
BT4a0413PPE000AC01000
4
12.3
1.14
2
14.2
1.31
180
8 x 5
3.0**
200 – 230 Volt, 50/60Hz
3.1
BT4a0220PPE000AC01000
2
19
1.76
1
20.9
1.94
180
12 x 9
2.0**
200 – 230 Volt, 50/60Hz
3.3
BT5a1605PPE000AC01000
16
4.1
0.38
8
4.9
0.45
180
8 x 5
6.0**
200 -230 Volt, 50/60Hz
4.5
BT5a1008PPE000AC01000
10
6.8
0.63
5
8.3
0.76
180
8 x 5
6.0**
200 – 230 Volt, 50/60Hz
4.5
BT5a0713PPE000AC01000
7
11
1.02
3.5
13.1
1.21
180
8 x 5
4.0**
200 – 230 Volt, 50/60Hz
4.5
BT5a0420PPE000AC01000
4
17.1
1.58
2
19.1
1.77
180
12 x 9
3.0**
200 – 230 Volt, 50/60Hz
4.7
BT5a0232PPE000AC01000
2
32
2.96
1
36.2
3.35
180
12 x 9
2.0**
200 – 230 Volt, 50/60Hz
5.1
* Suction lift readings when liquid end and suction tubing are full, or for self-degassing liquid end when the suction tubing contains air