T Series - Portable Motor Driven Pumps
Pacer T Series Pumps are portable motor driven pumps that are light weight and suitable for applications where soft solids are present. These portable transfer pumps are effective for pumping dirty water, soft solids, salt water and many other effluents around the farm, on the water or at the job site.
Long coupled and close coupled variations are available, please contact Malcolm Thompson Pumps on 1800 439 607 for more information.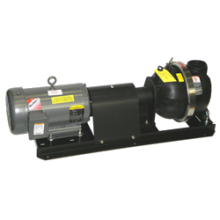 Features
Applications
Curves
Tech Specs
Pacer Pumps' T Series pumps are self-priming, solids handling centrifugal pumps that will pass a soft solid half the diameter of the suction port
Fast, high suction lifts and high flow rates
Pressurized oil lubrication system protects silicon carbide shaft seal faces
Open impeller and double flush volute help keep the pump free of settled solids
Corrosion resistant polyester with urethane coated impeller and volute
Buna Elastomers and wear plate
Stainless steel fasteners and quick-release band clamp for easy clean out
Available in 2″ or 3″ for maximum flows
Self-priming with vertical suction lift to 25 ft.
Rough service oil lubricated silicon carbide shaft seal
Electric close or long coupled versions available
1 year limited warranty on Pacer Pumps
NOTE: Product information should be used as a guide only and should not be used for pump selection. For further information, please contact Malcolm Thompson Pumps on 1800 439 607.
Agriculture
Mining
Contruction
Electric Drive Long-Coupled and Close-Coupled Pumps
Part Number
Model
Ports
Thread
Motor
Seal Type
Impeller
Max Flow (LPM)
Max Head (M)
TE2KBB030021GB
TE
2″
NPT
3kW Motor, 2P, 240V
BUNA-N /LINED VOLUTE
Medium Flow / Medium Head
550
17
TE2KBB040023GB
4kW Motor, 2P, 415V
TE3MBB030021GB
3″
3kW Motor, 2P, 240V
BUNA-N /LINED VOLUTE
High Flow / Medium Head
1010
16
TE3MBB040023GB
4kW Motor, 2P, 415V
TE2BBBLC005541B
2″
0.55kW Motor, 4P, 240V
BUNA-N /LINED VOLUTE
Medium Flow / High Head
450
8.5
TE2BBBLC005543B
0.55kW Motor, 4P, 415V
TE2KBBLC040021B
4kW Motor, 2P, 240V
Medium Flow / High Head
900
26.8
TE2KBBLC040023B
4kW Motor, 2P, 415V
TE3DBBLC011041B
3″
1.1kW Motor, 4P, 240V
BUNA-N /LINED VOLUTE
Medium Flow / High Head
680
7
TE3DBBLC011043B
1.1kW Motor, 4P, 415V
TE3MBBLC055023B
5.5kW Motor, 2P, 415V
Medium Flow / High Head M Curve
1440
22.3