PC Series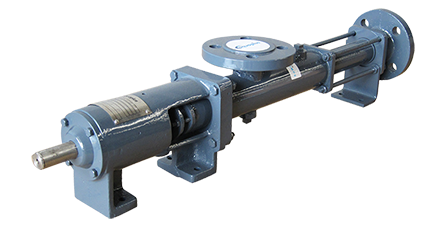 Helical Rotor Pumps
Capacity is proportional to speed
Head independent of pump speed
Self priming
Low NPSH requirement
Can handle high viscosity materials
Handles solids in suspension or fluids containing high percentage of solids
Minimal damage to shear sensitive products
Reversible
Non-pulsating flo
Description
Applications
Tech Specs
Downloads
The Aquaplus PC Series range of pumps is available in a range of versions, sizes and materials to suit a variety of applications. PC Series pumps can pump almost anything from water to shear-sensitive fluids to viscous, corrosive, abrasive and solid-laden fluids.
W Range
The widethroat W Range is designed to handle highly viscous fluids with viscosity up to 1,000,000 cp. It has a standard open throat hopper and an auger assembly which steadily conveys heavy material from the open throat to the rotor/stator elements. The pumps are run at relatively low speeds which facilitates handling of difficult to flow and shear sensitive products with minimal damage.
F Range
The hygienic F Range of pumps is specifically developed for the food, pharmaceutical and hygienic industries where product integrity is critical. All metallic parts in contact with the fluid are in smooth finish stainless steel. The pump is designed to eliminate any retaining pockets which can cause product contamination. All sizes are available with CIP options. The pumps have open universal joints for fluid having good lubricating properties, while for non-lubricating fluids the pumps are supplied with fail-safe double sealed universal joints jacked with non toxic lubricant.
Water and waste water treatment – sludges, dosing, floculants, water, industrial effluents, sewage
Mining and construction – dewatering, drilling mud, mineral processing, sludge, explosive slurries, grouting
Cosmetics and pharmaceuticals – lotions/creams, shampoo, glucose, medical formulations, toothpaste, soap and detergents
Marine – fuel, transfer, seawater, bilge pumping, oil rig
Food and beverage – sugar syrup, edible oils, confectionery, chocolates, dairy, fruit pulp and juices, winery
Paper and ceramics – paper, latex, ceramic/clay slip, chemical dosing, starch, paper pulp & cellulose
Chemicals – fuel oils, organics, dyes/resins, emulsions