Type LMV-322 Complete Gearbox Assembly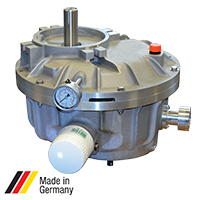 Gearbox Units Suitable for Sundyne Pumps
Gearbox housing made from high strength Aluminium
Meets the highest material and quality standrds
Compatible with Sundyne original gearbox parts
Description
Materials of Construction
Components Used
Spare Parts
Downloads
Completely pre-assembled and test bench-tested gearbox units are suitable for Sundyne Pump type LMV-322, allowing for a quick and easy exchange of defective gear units on site.
The downtime of the pump is reduced to a minimum. All gearbox components meet the highest material and quality standards and are fully compatible with the Sundyne original gearbox parts.
Standard materials of construction
Gearbox housings
Aluminium (high strength)
Shafts / Gears
Alloy steel
Journal bearings
Lead bronze
Gaskets
Viton
All components such as gearbox housings, shafts, gears and bearings etc. are also available separately.
The following components which also can be ordered separately are included in the gearbox kit:
Low speed shaft assembly (A120)
Idler shaft assembly (A140)
High speed shaft assembly (A130)
Lube oil pump and spring (160 / 23A)
Upper and lower journal bearing (151A/151B)
Upper and lower axial thrust washer (155A/155B)
Housing gasket (105)
O-Ring (936T)
Gearbox shaft seal (115)