ARJ Series
The Aquaplus Submersible ARJ Series Jet Aerator mixes liquids and water, ideal for re-circulation in sludge mixing applications in waste water treatment plants, sewage treatment plants, agricultural industries and the prevention of flotation or sedimentation.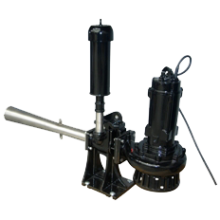 Features
Applications
Curves
Tech Specs
Dimensions
Downloads
Submersible motor, low noise, high efficiency
Require shaft power hardly changes with fluctuations in water depth
Self Aspirating (no external air supply required)
High performance impeller (efficient mixing)
High efficiency oxygen dissolving
Guide Rail available for easy installation, maintenance & repair
NOTE: Product information should be used as a guide only and should not be used for pump selection. For further information, please contact Malcolm Thompson Pumps on 1800 439 607.
Aeration, pre-aeration and/or mixing in
Industrial waste water treatment plants
Sewage treatment plants
Effluent in agricultural industries
Prevention of floatation or sedimentation
Legend
1. ARJ-32-52-.75T4-20
2. ARJ-40-11-1.5T4-20
3. ARJ-40-11-2.2T4-20
4. ARJ-50-11-3.7T4-20
5. ARJ-50-11-505T4-20
Part number
Discharge
(kg 0² /h)
Power
(kW)
Voltage
(V)
Cable
(m)
Air Capacity Water Depth (m³/h-m)
Max Water Depth (m)
Dry Weight
(kg)
Max Solid
(mm)
ARJ-32-52-.75T4-20
0.35-0.45
0.75
415
20
11-2
3.0
71
10
ARJ-40-52-1.5T4-20
1.0-1.2
1.5
415
20
22-3
3.0
121
10
ARJ-40-52-2.2T4-20
1.75-1.95
2.2
415
20
37-3
3.5
143
10
ARJ-50-52-3.7T4-20
3.5-3.95
3.7
415
20
75-3
4.0
201
12
ARJ-50-52-5.5T4-20
5.3-5.9
5.5
415
20
103-3
5.0
242
12
Please note: No chain included
Part Number
Dimensions (mm) 
Weight (kg)*
A 
B
C
D
E
F
G
Ǿd 
ARJ-32-52-.75T4-20
1099
597
246
135
270
129
556
Ǿ32
55
ARJ-40-11-1.5T4-20
1343
642
319
153
308
145
669
Ǿ4
81
ARJ-40-11-2.2T4-20
1343
719
319
153
308
145
669
Ǿ4
103
ARJ-50-11-3.7T4-20
1526
770
379
182
376
182
749
Ǿ5
141
ARJ-50-11-5.5T4-20
1526
831
379
182
376
182
749
Ǿ5
182
 Part Number 
 Dimensions (mm) 
 A 
 B 
 C 
 D 
 E 
 F 
 G 
 H 
 I 
 ARJ-40-11-.75T4-20
 1099
 718
 266
 135
 270
 250
 698
 34.5
 100
 ARJ-40-11-1.5T4-20
 1384
 777
 360
 153
 308
 280
 871
 47
 70
 ARJ-40-11-2.2T4-20
 1384
 854
 360
 153
 308
 280
 871
 47
 70
 ARJ-50-11-3.7T4-20
 1586
 888
 439
 182
 376
 300
 965
 53.5
 70
 ARJ-50-11-5.5T4-20
 1586
 949
 439
 182
 376
 300
 965
 53.5
 70
Part Number 
 Dimensions (mm) 
 Weight
(kg)*
 J 
 K 
 L 
 M 
 N 
 Q 
 Ǿd 
 Ǿd1
 ARJ-40-11-.75T4-20
 70
 180
 140
 155
 220
 M12
 Ǿ32
 Ǿ40
 71
 ARJ-40-11-1.5T4-20
 90
 220
 170
 190
 260
 M16
 Ǿ40
 Ǿ40
 121
 ARJ-40-11-2.2T4-20
 90
 220
 170
 190
 260
 M16
 Ǿ40
 Ǿ40
 143
 ARJ-50-11-3.7T4-20
 110
 250
 190
 225
 320
 M16
 Ǿ50
 Ǿ50
 201
 ARJ-50-11-5.5T4-20
 110
 250
 190
 225
 320
 M16
 Ǿ50
 Ǿ50
 242
*Weight varies based on guide rail or free standing arrangement