End Suction Pumps
End Suction Pumps are a popular and simple type of Centrifugal Pump that is widely used in various industries. Typically designed horizontally and as a single stage pump, End Suction Pumps come in a variety of sizes and materials including Austenitic Iron, Stainless Steel and Cast Iron.
When selecting an end suction pump, it's important to consider factors such as the required flow rate, head (pressure), fluid properties, pump materials, and operational conditions to ensure optimal performance and efficiency.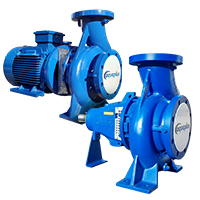 With over 40 years of specialisation in DIN pumps, Malcolm Thompson Pumps offers a comprehensive range that caters to various...