Lay Flat Flexible Polyurethane Hoses
Malcolm Thompson Pumps offers a broad range of piping products designed for groundwater extraction applications in a variety of sectors, from mine dewatering, bore water pumping, residential wells and agriculture, to other water utilities.
Designed for simplified groundwater extraction
Aquaplus Lay Flat Flexible Hoses are well known for enhancing the installation process of high and low pressure pumps. It consists of flexible piping, a complete selection of couplings and accessories, designed to make the installation of pumps in wells easy and quick.
The lightweight, flexible piping is much easier to handle, deploy and retrieve than rigid tubing, drastically reducing the time and cost involved when installing submersible pumps.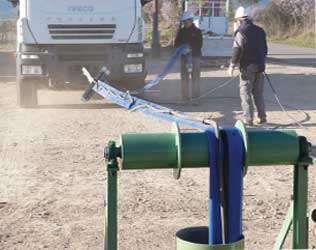 Benefits of Lay Flat Flexible Hoses
Suits irregular wells
Can be installed with centering devices, and technical problems can thus be avoided.
The flexible tubing is made of polyurethane and high-tenacity polyester yarm, which does not corrode.
Reduced vibration and noise
Absorbs vibations, rapid changes in pressure and unwanted noise from the installation.
Avoids incrustations, reducing hose pressure loss and minimising energy consumption
Self-supporting layflat riser
Does not need any supplementary fastening elements
High water follow in narrow wells
Aquaplus Flexible Piping is produced in one single length. This makes it possible to install piping of a larger diameter compared to rigid tubes.
Read how the Aquaplus FRM supported a Grundfos Bore Pump installation here.
A leading Australian lay flat hose supplier
Extensive stock holdings across Australia, ready for immediate delivery
Full technical support available
Available in lengths of 200m+
Full range of accessories
5 year warranty
Read our article: Why Use Aquaplus Flexible Piping for Borehole Applications?
Thousands of wells all over the world have been fitted with Aquaplus flexible water pump hoses. Contact our team today for a quote or call us on 1800 439 607. 
Extensive stock holdings Australia-wide
Features
Applications
Brochure
Flexible tubing for high pressure pumps
Max. Flow: 3.1 – 75 L/sec
Max. Working Pressure: 25 bar
Diameter: 32 – 150 mm
Made of polyurethane with polyester textile internal reinforcement
Appropriate for potable water
Meets requirements of certification NSF61 an WRAS
Low pressure loss due to dilatation (15% at working pressure)
Resistant to high temperatures and acid water
Residential wells
Agriculture
Mining
Water utilities
Sports fields, playgrounds or parks
Appraisal wells
Water monitoring