Malcolm Thompson Pumps announces Partnership with CDR Pumps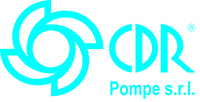 Malcolm Thompson Pumps (MTP) is pleased to announce that we have partnered with CDR Pumps and are now the exclusive distributor and service provider of CDR Pumps' complete range of Magnetic Drive Pumps in Australia. This partnership further reinforces MTP's commitment to distributing and servicing a range of pumps suited to hazardous applications.
Operating from a central European manufacturing facility in Milan, Italy, CDR Pumps has been manufacturing pumps for the chemical and pharmaceutical industries for more than 50 years. Their cutting edge technology places them on the front foot when customers are looking for a good quality, reliable and affordable pumping solution for hazardous liquids.
CDR Pumps' magnetically driven centrifugal pumps are specifically designed for hazardous duties.  Due to the seal-less technology these pumps feature a zero vapour loss design which prevents leakage of fluids and emissions of volatile, toxic and flammable chemicals.
MTP is proud to now be distributing and servicing CDR Pumps' small STN Magnetic Drive Pumps, UTN-BL Magnetic Drive Pumps and ETN Magnetic Drive Pumps. The Magnetic Drive Pump range is manufactured in a range of materials including Polypropylene, PTFE (Polytetrafluoroethylene), PVDF (Polyvinylidene Fluoride) and ETFE (Ethylene Tetrafluoroethylene).
"We are excited to come on board with CDR Pumps and are confident our customers will reap the benefits of this new partnership", said Ben Farr, Malcolm Thompson Pumps Chief Executive Officer.
"CDR's Magnetic Drive pump range provides MTP with a range of pumps designed specifically for arduous chemicals. We are excited to be supplying and servicing the range at competitive prices via our Sydney, Perth and Kalgoorlie branches."
Malcolm Thompson Pumps is a leading pump company with over 50 years industry experience. Operating branches nationwide Malcolm Thompson Pumps distributes an extensive range of world leading pump brands, offers a complete service and repair facility, as well as engineering and design services to create tailored pump package system solutions.
For further information regarding this partnership please visit please visit contact us on 1800 439 607.