UTN BL Series
CDR Pumps' UTN BL Series is a close coupled pump that provides significant space saving advantages. The range is available in flows up to 170 m3/hr and heads up to 65 metres.
This pump is constructed with either Polypropylene, PVDF or PFA lined wet-end components. Constructed together with high quality ceramics and suitably matched elastomers, this magnetic pump range provides total resistance to a broad range of chemicals and ensure long term reliability.
This process pump range is suitable for corrosive media and heavy duty applications as it features an enclosed one piece impeller and magnetic assembly. Pump and motor alignment is not required due to the simplistic close-coupled designed.
The heavy duty, reliable lining technology employed in this series has been proven by many blue chip customers as one of the best on the market and has contributed to this range being one of the leaders in lined pump technology.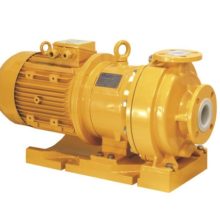 Features
Applications
Curves
Tech Specs
Downloads
Zero leakage
Excellent chemical resistance
Easy maintenance
Chemical and petrochemical
Photographic and x-ray processing
Medical
Galvanising
Electroplating
Anodising
Etching
Fertiliser plants
Water treatment
Food and beverage
Refrigeration
Aquaculture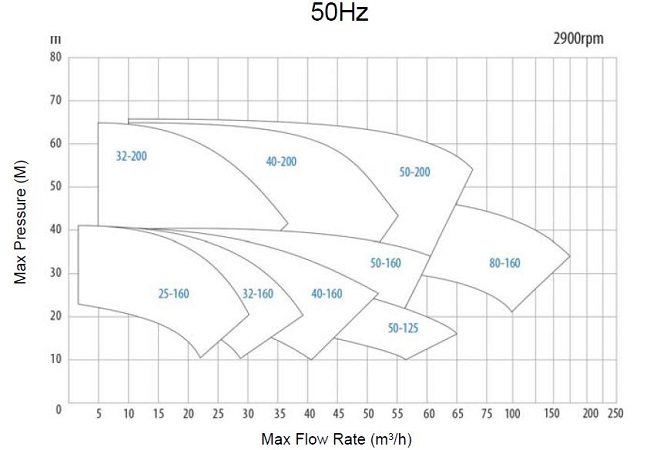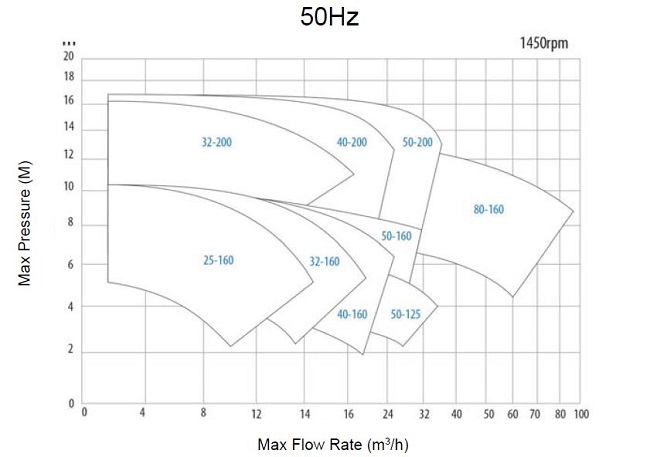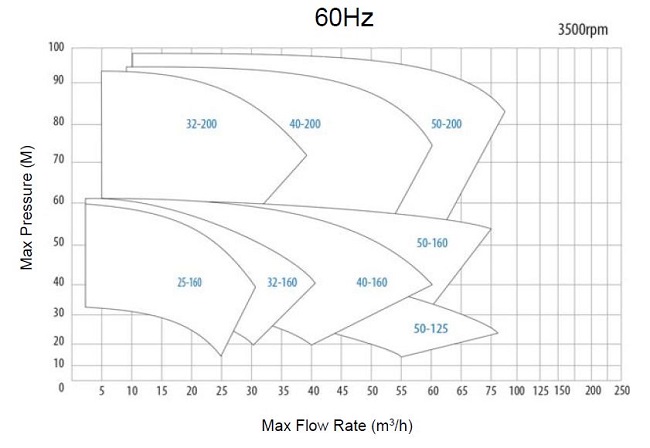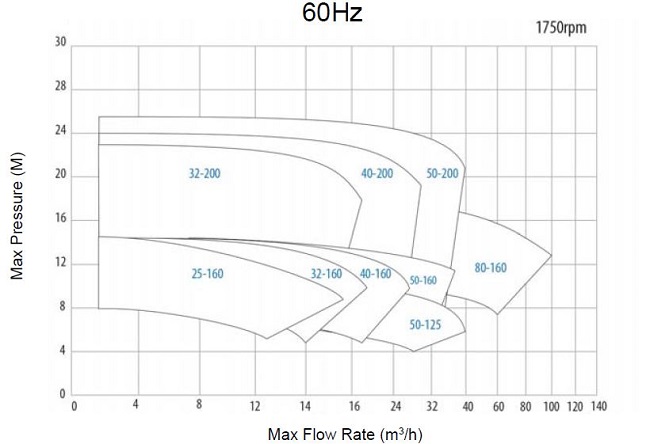 Part Number
Suction (mm)
Discharge (mm)
Pump Material Type
Power (kW)
Motor Poles
Max Flow Rate(M3/Hr)
Max Pressure (M)
MAGUTN-BL25-25-160 PP
25
25
PP+GF/FPM/PTFE-AI2O3/AI2O3
0.55
4
6
8.5
0.75
4
7.6
10.4
1.1
4
7.6
10.4
3
2
12.3
30
4
2
14
40
5.5
2
15.1
41
7.5
2
15.1
41
MAGUTN-BL40-25-160 PP
40
25
PP+GF/FPM/PTFE-AI2O3/AI2O3
0.55
4
14.5
9.2
0.75
4
15
10
1.1
4
15
10
1.5
2
19.5
15
2.2
2
23
22
3
2
25.5
28
4
2
28.5
34
5.5
2
30
40
7.5
2
30
40
MAGUTN-BL50-32-160 PP
50
32
PP+GF/FPM/PTFE-AI2O3/AI2O3
0.55
4
17
7.2
0.75
4
20
10
1.1
4
20
10
2.2
2
26
19
3
2
28.5
22
4
2
33.5
30
5.5
2
36
37
7.5
2
39.5
40
MAGUTN-BL50-32-200 PP
50
32
PP+GF/FPM/PTFE-AI2O3/AI2O3
1.1
4
22.5
6.2
1.5
4
25
7.2
2.2
4
30
10
7.5
2
30
10
11
2
33
15
15
2
37
20
MAGUTN-BL65-40-160 PP
65
40
PP+GF/FPM/PTFE-AI2O3/AI2O3
0.55
4
42
24
0.75
4
49
30
1.1
4
57
37
1.5
4
60
40
2.2
2
60
40
3
2
31
5.4
4
2
36
6.5
5.5
2
36
6.5
7.5
2
55
17
11
2
60
20.5
15
2
70
25
MAGUTN-BL65-40-200 PP
65
40
PP+GF/FPM/PTFE-AI2O3/AI2O3
1.1
4
70.5
26
1.5
4
70.5
26
2.2
4
24.5
7.5
3
4
32.5
10
11
2
32.5
10
15
2
48.5
29
18.5
2
51
38
MAGUTN-BL80-50-125 PP
80
50
PP+GF/FPM/PTFE-AI2O3/AI2O3
0.55
4
64.5
39.5
0.75
4
17
13.8
1.1
4
18.2
15.6
3
2
18.2
15.6
4
2
33
50
5.5
2
36.5
62
7.5
2
36.5
62
11
2
25.5
11.2
MAGUTN-BL80-50-160 PP
80
50
PP+GF/FPM/PTFE-AI2O3/AI2O3
0.75
4
26
14.2
1.1
4
27.5
16.2
1.5
4
27.5
16.2
5.5
2
52
53
7.5
2
60
65
11
2
60
65
MAGUTN-BL80-50-200 PP
80
50
PP+GF/FPM/PTFE-AI2O3/AI2O3
0.75
4
28
8.4
1.1
4
29.5
9.7
1.5
4
32.5
12.8
2.2
4
35
16
3
4
35.5
17
5.5
2
55
28
7.5
2
58
36
11
2
62
47
15
2
68
58
18.5
2
72
68
MAGUTN-BL125-80-160 PP
125
80
PP+GF/FPM/PTFE-AI2O3/AI2O3
1.5
4
71
7
2.2
4
78
8.5
3
4
88
10.8
4
4
99
12
5.5
4
99
12
15
2
148
32
18.5
2
170
40
22
2
175
42
30
2
197
48
37
2
197
48